About the Language Learning Center Labs
Digital Media Lab/Classroom (McClain 302)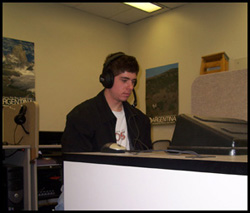 McClain Hall 302 is home to our digital media lab/classroom with 28 networked multi-media computers available for student use. With the software and equipment available in MC 302, students can work on any of the numerous Language Lab programs. All of the MC 302 computers are multi-language capable, allowing students to type in Japanese, Chinese, Russian, Spanish, French, and many other languages. MC 302 also offers access to satellite programming from around the world and cable television in several languages.
MC 302 is also available for reservation by faculty for classes or for presentations. It is equipped with an overhead projector, document camera, VCR, DVD player all of which are connected through the front central computer and can be projected onto the screen and/or onto the individual screens of the 28 workstations. Sound can be projected through the room speakers or over the headphones. Multi-functional audio software allows for pairing of students for group discussions, one-on-one discussion between student and professor, and between the professor and the entire class.
To facilitate the use of programs such as Virtual Tape Deck and Virtual VCR, MC 302 is also capable of converting traditional types of audio and video media into digital format for use in the lab.
Computer Lab (McClain 304)
McClain Hall 304 is also the home to a fully networked computer lab allowing access to all Language Lab programs, the Internet, and Microsoft Office.
It is also open for student use and is available for faculty reservations. MC 304 is equipped with a projector, which is connected to a DVD/VCR, and the front proctor's computer.
Reservations
If you would like to make a reservation for one of the Language Labs, please send your name, email, time, date and a brief description of why you would like to reserve a lab to: languagelearning@truman.edu