Edwin C Carpenter Language Learning Center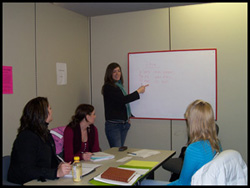 The Edwin C. Carpenter Language Learning Center is designed to help students in their acquisition of foreign languages and aid professors in their teaching. The LLC offers two types of teaching/learning environments:
Foreign Language Labs
Foreign Language Peer Learning Labs
The LLC has 60 multimedia computers networked into two foreign language computer classrooms with the option of overhead projection. Live foreign language television and music programming arrive through two satellite dishes. Computer programs in eight languages as well as Internet access and email facilities allow students access to some of the most advanced language learning aids in the world.
Students enrolled in elementary or intermediate level foreign language courses study for one hour per week in small groups with an upperclassman language student or native speaker in the Foreign Language Peer Learning Labs. These groups of 4-5 students work together for the entire semester, profiting from the valuable resources of native cultures and peer teaching and learning.
The Language Learning Center employs approximately 100 students per semester as lab assistants and foreign language peer teachers providing students with valuable skills and work experience.